All about Illusion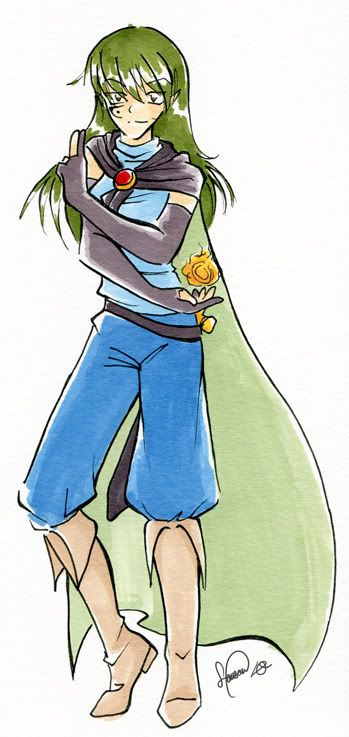 Illusion
Age: 21

Description:
She has mid length mildy messy but kept green hair, she has elven ears and pale skin. On the right side of her face is a tattoo that she's had since her mother was taken from her. (Tattoo shown in picture on the side.)

Abilities:
She can cast white magic spells and some dark magic, she specializes in white magic however. She also fairly skilled with a sword in which she caries her father's sword with her everywhere. Later she obtains a staff which allows for her to use stronger spells.

Personality:
Illusion has a cocky attitude usually, though she gets scared, mad and sad just like anyone else would she's not perfect. She enjoys traveling with her new found brother, Mamoru, in search of their mother and her father's gems.

What she normally wears:
She wears knee high boots, pants, a light blue sleeveless turtle neck shirt, black cape with hood attached it stays fastened around her neck with a simple ruby brooch; the lining in the cape is a light green color. She also wears long gloves that have the thumb, middle and ring fingers cut off on each one.

History:
(Illusion is loosely based on a role play character who developed more of a story after the role play died.)
Illusion's is half human and half elf, her mother was taken from her and father was killed right before her very own eyes. Little had she known that her mother later suffered from the same tragedy. She meets up with an overly cocky swordsmen; both of which can't stand each other they grown to tolerate one another. They don't learn til later on that the man she travels with is her half brother. Still slightly naive she hasn't learned the full truth of what's happened.
Skills

Image
Description
Level

Forge Skill

2

Enchantment Skill

3




Vital Stats

Health Points:: 12/12

Mana Points:: 30/56

Weight: 317/1,100

Experience:: 401/1,100

Characteristics

Armour Class

21

Strength

7

Intelligence

20

Wisdom

17

Constitution

18

Battle Statistics

Victories

50

Defeats

7

Flees

51




Illusion
Level: 2

Class:


Magician

Race:


Tribe of Horai

Element:


Light

Alignment:


Neutral