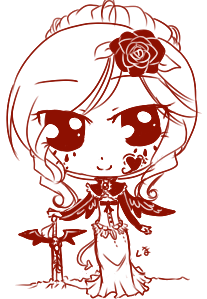 Name
: Kalin
Nicknames
: KK, LUF
Age
: 22
Birthday
: July 29th
Occupation
: Slave to Disneyland. >3>
At my best I am
: Empathetic, Happy, Energetic, Sarcastic, Silly, Friendly, Creative.
At my worst I am
: Stubborn, Wussy, Non-attentive, Boring. >3>
I like
: Girly stuff, FOOD, Anime(Bleach, Sailor Moon, Flame of Recca, Magic Knight Rayearth, Air Gear, Fushigi Yuugi, Dragonball Kai, among others), Tupperware, Smoking, Volcanoes and Earthquakes, France, Aqua Teen Hunger Force, Shin-chan, PUGS, Venice Beach.
I dislike
: Sun burns, self-rightousness, scary things.
Other
: Being a somewhat sarcastic person, I LIEK TO SPEAK LIEK DIS. I don't know why but I SRSLY love chat/n00bspeak. It fills my heart with joy and laughter, deal with it. ALSO I love to type in CAPS when I'm excited about something. CAPS LOCK IS THE LANGUAGE OF CHAMPIONS. These things will endear me to you in time.
I LOVE CASTLE PARTIES, MY BOYFRIEND, AND CHICKEN & WAFFLES